Qualified and Vetted Professionals for Your Staffing Needs
Partner with Aerospace Professional Services (APS) to get the most qualified labor force available. From engineers to warehouse workers, we provide direct hire, temp-to-perm and full-time contract positions to augment your existing workforce.
Over Four Decades of Aviation Experience
We know the industry and speak your language, so there's never any miscommunication about your specific staffing needs.
Turnkey Labor Solutions
APS relieves you of all W-2 administrative burdens, including payroll, taxes, general liability, workers compensation, insurances, RIF and unemployment.
We Hire Veterans
Aerospace Professional Services was awarded the HIRE Vets Gold Medallion Award by the U.S. Department of Labor for our continued and dedicated commitment to hiring U.S. Military Veterans.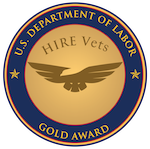 24/7 Support
Regardless of the day of the week or time of day, customers and employees alike can call and speak with a live representative at APS to address any matters or concerns.
What clients are saying…
"I would like to highly recommend Aerospace Professional Services (APS) as I have had the pleasure of working with them for several years now. APS strives to exceed your needs and expectations with their thorough vetting processes and remaining engagement from beginning to end of any contract assignment. The APS staff's professionalism is second-to-none with strong morals operating in a very structured environment. In the event any issues arise the entire staff is available literally 24-7 to ensure matters are resolved fully and quickly not only for their clients but also for their personnel. I have personally spoken with several of their personnel over the years with all of them mentioning that the entire APS team treats them very fairly and makes them feel as though they are more than just a body or number. Again I strongly recommend Aerospace Professional Services for all of your staffing needs."